LOIS BECK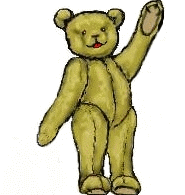 One of the early makers in the reemergence of teddy bears in the 1970's and 80's. And, I still do teddy bear repair.
I did produce some color and black and white paper dolls and a few porcelain dolls before the teddy bears took over full time.
I have incorporated children and teddy bears into much of the artwork that I do today.
Here are two photos from the old catalog. Each maker's bears have a "look". If you are actively searching for my bears, I would be happy to forward you a copy of the catalog.
I would be happy to answer any of your repair questions, for both my bears and other bears.
Teddy Bears have continued to be a part of my life.